By Ben Fuchs | Pharmacist Ben
One of the most popular subjects in the world of health and nutrition is detoxification. Perhaps it's a manifestation of the recognition we all have of how much we've trashed the world we live in. The pollution of our planet is proceeding on an incomprehensible pace and as a society, we are fast approaching a tragedy of biblical proportions. Understanding how to keep the our body's biochemical machinery pristine and protected is one of the most important lessons we can learn if we are going maximize our health, longevity and quality life and minimize our risk of disease and degeneration.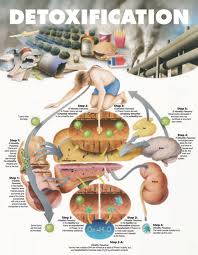 The bad news is, we've done such a toxic number on our environment, that it's almost impossible to escape our poisonous legacy. The Bright Side is the human body has healing, regenerating and detoxification systems built into it. There's no need for fancy or expensive detox programs. In fact, in a healthy body there are 7 different systems that can purify fluids and tissue. Yet while the lungs, liver, colon, skin, kidneys, lymph and blood are are all automatically and spontaneously involved in moment to moment purification, for many us these systems can become overloaded. Besides avoiding (as much as is practical) exposure to poisons, there are numerous inexpensive and easy to use supplements and strategies to help improve and strengthen these built-in cleansing systems. Below you will find Part 1 of the top 12 tips and tools you can use to improve biological detoxification in a very toxic world. For more good health information, make sure to listen to The Bright Side, Monday thru Friday 8:00-9:00am PST on the Genesis Communication Network.
1. Exhaling – while most people are aware of the importance of oxygenation, it seems like far fewer understand how to exploit the the exhalation process. Carbon dioxide, lactic acid and other gaseous toxins are eliminated on the out-breath and simple deep breathing practices are cheap (free!) and effective ways to maximize the cleansing action of the respiratory system. This is especially important for smokers! And, of course, regular aerobic exercise is a great way to promote healthy exhalation detoxification. As a bonus benefit, the neurology associated with exhalation shows up as a relaxing affect on the heart.
2.Water – dilutes poisons and improves elimination through the kidneys and lungs. Eat water-rich foods (veggies especially) and drink lots of purified (distilled or reverse osmosis is best) water generously throughout the day.
3.Chlorophyll – Electromagnetically attracts toxins and allows them to pass harmlessly through the body. Eat lots of veggies and chlorella, spirulina and other seaweed products. Chlorophyll also acts as a source of magnesium, which plays an important role in biological detoxification.
4.Zeolite – electrically charged mineral structures with millions of micropores that effectively trap heavy metals. So effective for radiation contamination that the nuclear industry uses it to mop up toxic spills. May function as an anti-oxidant and can help support blood alkalinity too. Take 5 to 15 grams a day and look for premium micronized (vs. milled) form for best results.
5.Bentonite Clay– magnetically attracts toxins in a manner similar to zeolite. Especially effective for intestinal purification. Mops up colon toxins and parasites for rapid elimination. Use 1-2 tablespoonful in 16oz of water. Water absorbing properties can help improve diarrhea symptoms too.
6.Far Infra-red Saunas (FIS)-special saunas that emit energy which is directly absorbed by the body. Unlike regular saunas which heat the air or steam and then indirectly heat the body, FIS therapy has been shown to have dramatic effects on detoxification. In addition to maximizing the removal of toxins through sweat, Far Infra-red Saunas are also known to kill certain bacteria and parasites, detoxify cells by radiatory vibration and decrease the size of biological water clusters which can mobilize stored toxins and make them easier to excrete.