By Ben Fuchs | Pharmacist Ben
The next time you see that commercial where the two people are trying to figure why high fructose corn syrup is problematic, here's somethings YOU can think about…
Table sugar is made up robust chemical bond that connects fructose and glucose; it's a natural product with a natural bonding that makes it very strong. High fructose corn syrup, which is made up of an artificially processed combination of fructose and glucose has no such chemical constituency. The two sugars aren't bonded. And that means it's is fructose is free and easily absorbed by liver which doesn't really know how to handle kind of fructose load.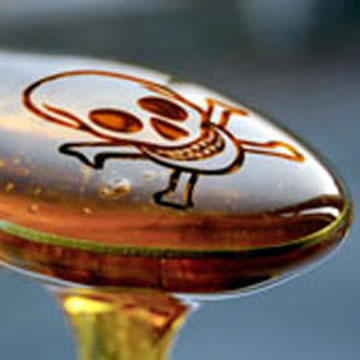 The net result is a too horrible words that when it comes to your health and longevity that you don't want to hear together "fatty liver".
High fructose sweeteners have another unpleasant quality. While all sugars can make you fat, fructose-fat may be specific for the belly. In a study published in the Journal of Clinical Investigation, researchers showed that volunteers who consumed fructose sweetened beverages experienced significantly higher accumulations of fat within the abdomen even though they and their glucose drinking experimental colleagues gained the same amount of total weight.
Got gout? Well, it turns out one of the ways the the liver handles all that excess fructose ends up creating the uric acid crystals that wreak so much havoc in millions of big toes around the country. And uric acid doesn't just cause the grief of gout. It associated with high blood pressure and kidney disease too.
And if that's not enough, there's recent literature that suggests that even though fructose doesn't raise insulin, it may increase insulin resistance. In article published earlier this year in Diabetes Care, fructose consumers were more likely to have depotentized insulin than glucose consumers.
Perhaps the worst thing about high fructose corn syrup is a particularly distressing feature it shares in common with most common sweeteners, artificial and "natural". They make you want to eat more. In the book 'Salt Sugar Fat" by Michael Moss, there's an interesting and revealing vignette about how surprised researchers were to discover that sweetened beverages more hungry not less. And now it turns out that fructose may be particularly culpable. Two papers in the Proceedings of the National Academy of Sciences in 2007 showed that pure glucose decreases food intake while fructose had the opposite effect fructose increased it .