By Ben Fuchs | Pharmacist Ben
This past November's issue of the highly regarded publication "Nutritional Journal" has a cool article about avocados. It quotes a study (entitled, somewhat awkwardly, "A Randomized Crossover Study to Evaluate the Effect of Haas Avocado Intake on Post-Ingestive Satiety and Insulin Levels and Subsequent Energy Intake in Overweight Adults "!) that compared the effects of adding a fresh avocado to a lunchtime meal to the effects of eating a standard non-avocado-including lunch. Scientists were looking to see how avocado consumption would influence blood sugar and insulin responses, and satisfaction and further food intake.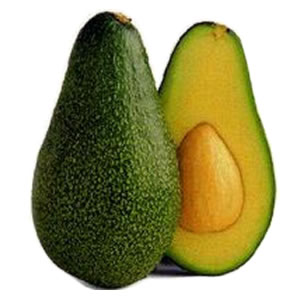 The researchers, from the Department of Nutrition at Loma Linda University found that participants who added half an avocado to their lunch reported a significantly decreased desire to eat by 40 percent over a three hour period and 28 percent over a five hour period compared to their desire to eat after a standard, non-avocado-containing lunch. Even more significantly, their satisfaction was long lasting. Three hours after eating participants reported increased satisfaction by 26 percent. And the avocados didn't throw off blood sugar. According to Dr. Joan Sabat who led the research team "…there was no increase in blood sugar levels beyond what was observed after eating the standard lunch".
So what is it that makes avocados so satisfying? Well, aside from the fiber and the nutrients which are always satiety-inducing, probably the most hunger busting element of the succulent green fruit are the fats. Avocados are among the plant world's most lipid-dense products, containing significant amounts of both saturated and unsaturated fats. According to the USDA, 1 cup of avocado contains over 4 teaspoons of fat. What's more, it's got nearly 3 grams of protein (about as much as half an egg) and nearly 25 percent of the RDA of Vitamin C. And, next to zero calories derived from sugar! Considering that kind of nutritional payoff, it's no wonder that avocados have been farmed for millennia. They're one of the oldest cultivated fruits; Central American farmers have been growing them since 8000 BC.
The most common avocado is the Hass variety, it comprises over 75 percent of the US avocado crop, which is located and largely concentrated in California, Florida and Hawaii and boasts business of nearly half a billion dollars annually. Other varieties include the oversized Florida Fuerte avocado that's less fatty and gram for gram lower in calories than the venerable Haas, and the cocktail avocado which is pitless, and as tasty and delicious as it is difficult to peel and hard to find.
Did you know you can prevent avocados from browning by sprinkling the flesh with a little lime or lemon juice?
Use lots of Celtic Sea Salt on raw, fresh avocados. The salt and avocado fats will act synergistically to amplify the distinctive tastes and subtle flavors of the rich, buttery fruit.
Can't wait to eat your hard avocado? You can hasten it's ripening by putting it in a paper bag. The bag will trap ethylene oxide, a ripening-inducing gas that is emitted by the tasty fruit as it ages. Make sure you keep the bag in a dark cool area and you check your avocado regularly or you may end up making guacamole!