By Ben Fuchs | Pharmacist Ben
SUMMARY
Millions of Americans have Adult Persistent Acne
APA? Think adrenal and ovary/testes hormones
Causes as always: digestive, insulin, blood sugar, adrenal stress
Ovarian involvement sometimes results in cysts in the ovaries. This condition is called Poly Cystic Ovarian Syndrome
Symptoms include obesity, blood pressure issues fertility development of body hair, loss of head hair and oily skin and blemishes
For all APA use nutrition, diet and lifestyle strategies, they work!
Think zits are for kids? Think again! According to The International Dermal Institute between 40 and 55 percent of the adult population age 20-40 have with low grade, persistent acne and oily skin.That means millions of unfortunate Americans and what's even more disconcerting is the fact that dermatologists who refer to this condition as Adult Persistent Acne (APA) are, for the most part, impotent and clueless when it comes to addressing this difficult and unpleasant skin condition. The accepted medical protocols for dealing with APA remain mired in the tired antiquated, decades-old saws of steroids and antibiotics or worse barbaric deep chemical peels using toxic substances and potential carcinogens like croton oil, phenol or aminolevulenic acid.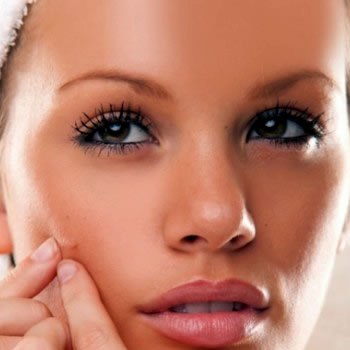 When it comes to the biology of APA, no health condition screams adrenal and reproductive gland dysfunction louder. Both the adrenals as well as the ovaries/testes produce substances that regulate the skin oil production, pigmentation and skin cell growth that are the hallmark features of adult acne.
To put it simply and concisely, the symptoms of adult persistent acne are a classic case of hormone pathology. And, hormone pathology is itself more often than not a reflection of digestive and blood sugar problems.
Food toxins and allergies can result in malabsorbtion of raw materials for hormone production In fact, one of the more poorly recognized causes of APA is food intolerance and digestive issues. If you find that in addition to problem skin you have digestive health issues, including loose stools and/ or constipation, chronic heartburn bloating, gas, or simply general gastrointestinal discomfort and unpleasantness AND you're breaking out, the chances are pretty good that you're dealing with some kind of digestive related skin condition. And once the digestive distress becomes long-term and chronic you're very possible that you'll end up dealing with adrenal stress which can then function as a secondary cause of problem skin. This is especially likely if your facial blemishes appear as rashy and diffuse (spread out all over the face) and if they are showing up on the back or chest or other non-facial parts of the body.
Then there's blood sugar connection to adult acne. Elevations in insulin, the sugar controlling hormone are often involved in the development APA. Once the blood sugar system become overwhelmed, the adrenal activity is unregulated. Many of the more common features of adult persistent acne, especially skin oiliness and hyper-pigmentation are a common sign of adrenal hormone activation.
Even more significant, the dermal distress of APA is more than merely an unsavory superficial skin condition. The hormone pathology behind the appearance of blemishes, dark spots and oily patches can be the harbinger of much more serious health issues to come. Because the gland chemicals that are involved in causing adult acne are largely cleared by the lymphatic system, it's like likely the over the long haul APA can result in congestion in this significant circulatory conduit for biochemical waste. Because the lymphatic system is charged with eliminating the acne-inducing toxic and old hormones over time congestion of lymph fluid is likely to occur. Clogging of the lymphatic system may then manifest as immune activity and inflammation and causing even more adult acne, hyper-pigmentation and oiliness. Ultimately lymphatic congestion can wreak even worse biochemical havoc; liver disease, heart disease and cancer are just some of the ways lymphatic congestion can show up.
As mentioned previously, the hormone issues associated APA may be related to blood sugar dysfunction. And because of the close connection between blood sugar and female reproductive hormones, women are especially prone to blood sugar induced APA. Over the course of years and decades of sugar abuse (the average American consumes nearly half a pound a day, far more than the human body is supposed to handling) chronic elevations in insulin are likely. Insulin as growth inducing substance stimulates cell growth and division. In the ovaries this rapid cell growth and division can cause cysts. Ovarian cysts produce symptom hormones and this can be especially problematic for some women. In fact, elevations ovarian hormones the resulting symptoms, collectively known as Poly Cystic Ovarian Syndrome (PCOS) include weight gain, hair loss and the oily skin and blemishes associated with adult persistent acne.
If you are one of the many unfortunate sufferers of APA don't despair. Because ultimately acne like all skin and health conditions is a biochemical/nutrient problem, there are many biochemical/nutrient strategies(as opposed to pharmaceutical) for dealing with APA. Below are my Top 17nutrients and strategies for addressing adult persistent acne:
1) Zinc Picolinate ( 50mg a day) – best taken with 2mg of Copper chelate, important for blood sugar control as well as hormone production and balance
2) Vitamin A (20,000 iu a day) – premier skin vitamin stabilized the growth of skin cells and sebum (skin oil) producing cells too
3) Vitamin B5 (1000-200mg three times a day taking each dose with the entire B-complex) – key vitamin for skin oils and adrenal gland hormones
4) Vitamin B3 (timed release 100-300 mg daily,taking each dose take with the entire B-complex) – anti-inflammatory, improves blood sugar control
5) NAC (500-1000mg) a day – important liver support nutrient, improve hormone processing
6) Selenium Monomethionine (600mcg a day) – detoxification of old hormone
7) Glutamine (1000 mg a day) – general detoxification and anti-inflammatory properties
8) MSM (2000mg a day) – detoxification, improve hormone elimination
9) Vitamin C (5000-10,000 mg a day) – the "primal panacea", good for everything. Involved in hormone production as well as blood sugar chemistry
10) Probiotics (80 billion units of multiple strains) – improves fat metabolism, detoxification and hormone processing
11) Vitamin E (400 iu a day) – dramatic anti-inflammatory and healing properties
12) Isolate and eliminate problem foods (dairy, grains eggs and legumes are BIG problem foods; ANY vegetable can be a trigger as well)
13) Eat lots of cruciferous vegetables (broccoli, cauliflower, Brussels sprouts, bok choy) – improves hormone processing and detoxification. Steam lightly if you have any thyroid issues
14) Reduce intake of insulin spiking foods
15) Reduce intake of ALL foods caloric intake, fasting can have a dramatic impact
16) Slow down and deepen breathing, deep diaphragmatic breathing techniques daily to improve adrenal function
17) Exfoliate and cleanse daily 2% salicylic acid toners and cleanser. Keeping excess skin oils off of the face is important. These secretions from oil glands, technically called sebum undergo chemical when they're exposed to air that can cause inflammation and increase zittiness. Proper and regular exfoliation will assure that potential poor clogging dead skin cells are removed off of the skin surface.
18) Use Retinoic Acid cream or gel!! It is by far and away the most important topical skin product you can use. It improves all markers of skin health including hyper-pigmentation, oily skin and blemish formation. It'll even prevent the formation of fine lines and wrinkles.